NEWS: February 12, 2005


According to Rolling Stone magazine BECK will release two versions of his new album Guero on March 29th: a thirteen-track single CD, as well as a double-disc set featuring bonus tracks, remixes and a DVD. And right now at iTunes you can download Beck's "Hell Yes" EP with remixes from his upcoming album. Go grab it!
Got a Little Sympathy for Ya! - Debra Revisited: Get on over to iTunes where you can download Beck, Jay-Z and Pharrell Williams' DJ Reset Mash-Up remix "Frontin' on Debra."
LET'S DANCE! A new Beck album has been recorded, awaits mixing and is expected to hit the stores in October. Featuring the production prowess of The Dust Brothers (Mike Simpson and John King, who worked on 1996's Odelay and 1999's Midnite Vultures), it promises to be a definite departure from Beck's last release "Sea Change." The yet untitled album has been described as "danceable." We can't wait.
UPDATE: Although it was originally scheduled for an October 26 release, Beck has pushed back his yet-untitled new album until 2005, according to his publicist. The album and its accompanying artwork, remixes and videos were reportedly not likely to be finished in time to meet a fall release date (more info at mtv.com).
BECK and actress MARISSA RIBISI married in Santa Monica, California and are new parents.

"Southlander" news: Everyone's been waiting, but the wait is up! Southlander: Diary of a Desperate Musician features Beck in a role with onscreen performances. Available out on DVD at www.poptwist.com where there are a lot of photos and steady updates on Southlander.
PART TWO Platter Chatter with Beck: As promised, here's part TWO of Rob Jovanovic's interview with Beck for Record Collector.
Did you catch our fashionable Beck on the cover of Jane magazine? We did. Who wants pictures posted? I get enough email, I'll scan 'em and put 'em up.

Austin City Limits' Web site features a transcript of a post-show interview with Beck and will soon feature a video clip preview of the show and much more at http://www.pbs.org/austin

Tuesday, September 24, 2003 Beck performed new songs from "Sea Change" on KCRW's Morning Becomes Eclectic. Check KCRW's online archives if you missed it. Also listen to Beck live on the archives at www.mlive.com/cafe).
Beck's album "Sea Change" was released September 24, 2003. All you folkies will dig it. It's called Rolling Stone gives it 5 out of 5 stars and Q Magazine lists it as their Album of the Month, awarding it 4 out of 5 stars . We test drove it and it's smoooooooth as a bottle of Yoo-Hoo. Check out our album review.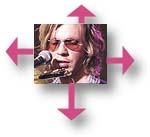 The entire staff of what was Slo-jam Central (brass, lawyers, flunkies, janitors, ALL OF US) got to check out "An Evening With Beck" in Atlanta, GA August 20. Unfortunately the photographer got cozy with a bottle of Rebel Yell and passed out in the back of the stretch limo so we have no pics but we WILL have a full concert report soon so hang around and find out what the most goth state in the U.S. is according to Beck, why the Cold Ass Fashion page will soon be hot and MORE.
MUCH MORE TO COME!